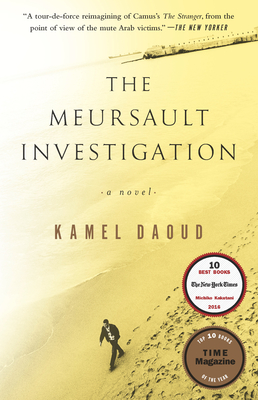 Kamel Daoud's novel was originally published in French under the tile
Meurault, contre-enquête
in 2013 in Algeria. John Cullen's English translation is entitled
The Meursault Investigation
, and it was published in 2015. There is also an
Arabic translation under the title معارضة الغريب
.
By no means should this blog entry be considered a genuine review. Nevertheless, I hope some of my thoughts after reading
Albert Camus's L'etranger
(English title The Stranger), excerpts of Edward Said's
Culture and Imperialism
and Kamel Daoud's recent novel will be useful.
This does contain a
few spoilers
.
1. I don't think it's useful to read
The Meursault Investigation
without having first read
The Stranger
. Kamel Daoud
denies that his novel is a response to Albert Camus
, and I actually buy that. It's just that there's too much
meta
going on in Kamel Daoud's novel which a reader who hadn't read
The Stranger
would miss.
Kamel Daoud, in my mind and
in the interview linked to above
, extends Albert Camus's novel to more recent times and to other characters. His book isn't a hagiography of the Algerian victim. In fact, Harun, Kamel's protagonist really doesn't know much about his brother, Camus's murder victim, and, after decades, he can't distinguish between his mother's spells, hallucinations and desires on the one hand and the results of his "investigation" on the other, especially in the midst the fog of his stunted life and the stunted life of Algeria post-independence.
2. Just as Albert Camus's protagonist is a stranger to his (French colonialist / metropole) society, so is Kamel Daoud's protagonist. In the case of Kamel Daoud's protagonist, a large target of his wrath is religion, specifically Islam. Kamel Daoud cleverly inverts many Muslim texts in the novel. Here's a non-comprehensive list:
Kamel Daoud names the unnamed 1942 Arab victim in The Stranger Musa. Kamel Daoud's protagonist is Musa's younger brother Harun. Harun and his younger brother Musa are both names of messengers mentioned in the Quran.
The 1963 murder victim is Joseph, which corresponds to Yusuf in Arabic, another messenger mentioned in the Quran.
Joseph's bloody shirt restores sight to Musa and Harun's mother. In the Quran, Yusuf's shirt restores sight to his father Ya3qub.
Harun describes about his disposal of Joseph's body as throwing it into a well. In the Quran, Yusuf's brothers treacherously throw him into a well, where a passing caravan rescues him and sells him into slavery.
"No one has ever met [God], not even Musa ..." In the Quran, God speaks directly to the Messenger Musa, and this is considered a distinction for him.
Harun fantasizes about a [non-violent] "martyrdom operation" for blasphemy.

Sometimes I'm tempted to climb up that prayer tower, reach the level where the loudspeakers are hung, lock myself in, and belt out my widest assortment of invective and sacrilege. I long to list my impieties in detail. To bellow that I don't pray, I don't do my ablutions, I don't fast, I will never go on any pilgrimage, and I drink wine -- and what's more, the air that makes it better. To cry out that I'm free, and that God is a question, not an answer, and that I want to meet him alone, at my death as at my birth. ... Sometimes I have the feeling I'm really inside that minaret, and I hear them out there, determined to break down the door I've locked so well, howling to wake the dead for my death. There they are, just on the other side, drooling with rage. You hear that door cracking? Tell me, do you hear it? I do. It's about to give way. And you know what I shout back at them? It's a single sentence nobody understands: "There's no one here! There has never been anyone! The mosque is empty, the minaret is empty. It's emptiness itself!" And for sure, there will be a large crowd of spectators the day of my execution and they will greet me with cries of hate. (pp 139 - 142)
3. In style,
The Meursault Investigation
differs considerably from
The Stranger
. The former is almost entirely the inner life of Harun in the form of a monologue from Harun to the reader in a bar in
Oran
. The monologue is emotional, contradictory and non-linear. Part one of the
The Stranger
, while told from the protagonist's perspective, is written in brief, simple sentences in a linear narrative. Thus the protagonist's inner life comes off as flat and shallow. In part two, the protagonist shares more of his thoughts and shows more emotion, but never to the extent that Harun does.
4. You might want to also read
Fyodor Dostoevsky's Crime and Punishment
to help you think about Camus and Kamel Daoud. Raskalnikov, Dostoevsky's murderer, dabbles with modernity enough to fool himself into the crime, but his subsequent collapse reveal him to have failed to escape from pre-modern social norms. This escape from social norms and the absence of resolution and redemption are considered by some to be features of the
modern novel
.
5. The following, in my opinion, is a key passage in the novel, but I hope somebody in the comments may enlighten me because I'm actually not certain where to put it. It occurs after Harun murders Joseph and buries the body.
And after that? Nothing happened. And whereas the night -- its trees plunged into the stars for hours, its moon, the last pallid trace of the vanished sun, the door of our little house, which forbade time to enter it, and the blind darkness, our only witness -- whereas the night was gently beginning to withdraw its confusion and give things back their angles, my body was able to recognize the arrival of the denouement at last. It made me shiver with an almost animal delight. Lying on my back in the courtyard, I made an even denser night for myself by closing my eyes. When I opened them, I remember seeing yet more stars in the sky, and I knew I was trapped in a bigger dream, a more gigantic denial, that of another being who always kept his eyes closed and didn't want to see anything, like me. (pp. 85-6)
Who is this other being? Why is Harun trapped in its dream and its denial?
6. Kamel Daoud says Albert Camus is
an Algerian, even if he denies it
. Edward Said, on the other hand, writes that "Camus's novels and stories thus very precisely distill the traditions, idioms, and discursive strategies of France's appropriation of Algeria. ... The
colon
embodies both the real human effort his community contributed and the obstacle of refusing to give up a systematically unjust political system. ... We have done what we have done here, and so let us do it again." (Edward Said,
Culture and Imperialism
, pp. 184-5)
And, just so you know, Edward Said's understanding of "France's appropriation of Algeria" is not pleasant:
The core of French military policy as [Theodore] Bugeaud and his officers articulated it was the razzia, or punitive raid on Algerians' villages, their homes, harvests, women and children. "The Arabs," said, Bugeaud, "must be prevented from sowing, from harvesting, and from pasturing their flocks." [Mostafa] Lacheraf gives a sampling of the poetic exhilaration recorded time after time by the French officers at their work, their sense that here at last was an opportunity for guerre à outrance beyond all morality or need. General [Nicolas] Changarneir, for instance, describes a pleasant distraction vouchsafed his troops in raiding peaceful villages; this type of activity is taught by the scriptures, he says, in which Joshua and other great leaders conducted "de bien terribles razzias," and were blessed by God. Ruin, total destruction, uncompromising brutality are condoned not only because legitimized by God but because, in words echoed and re-echoed from Bugeaud to Salan, "les Arabes ne comprennent que la force brutale." (Said, Culture and Imperialism, p. 182)
Several years ago, I reviewed a book about
the French use of torture in its counterinsurgency during the Algerian War of Independence
.
Kamel Daoud uses techniques such as inversion, satire and denial to press forward with Camus's philosophical themes while asserting the Algerianness of the setting and the characters.
In my opinion, both Edward Said's and Kamel Daoud's perspectives are helpful.

7. The judicial and police systems of French-controlled Algeria and revolutionary Algeria are both criticized. In both cases, the murderers are condemned or released for the wrong reasons. The police in both cases are too incompetent or indifferent to locate the victims' bodies.


— Smithsonian Magazine (@SmithsonianMag) November 7, 2014